Welcoming Chief Growth and Strategy Officer, Patrick Crovo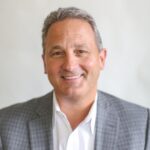 Patrick Crovo, Chief Growth and Strategy Officer, Akiak Holdings, LLC
BETHEL, AK – October 24, 2023. Akiak Holdings, LLC announces the appointment of Patrick Crovo to its executive leadership team as Chief Growth and Strategy Officer, effective October 8, 2023. In this newly created role. Crovo will work alongside the Chief Executive Officer Kevin Hamer to lead and accelerate the growth agenda and facilitate collaboration with the government. Crovo's new position was created to drive the Company's growth trajectory for all subsidiary and joint venture entities and is a recognized leader in digital enterprise services for government.
"Pat is a proven executive leader with extensive GovCon experience who will help to drive our growth strategy and deliver services and technology to help government tackle their biggest IT challenges," said Hamer. "He brings deep industry expertise and has an incredible record of leading high-growth companies to greater success. His experience will benefit all our customers and stakeholders and we are elated he has joined our team."
With more than three decades of experience in the federal information technology and professional services marketplace, Crovo is uniquely positioned to fuel continued growth and innovation across the Akiak portfolio of tribal-owned small businesses. "I have known Kevin and Sharon Hamer for a number of years and was attracted to their vision, culture and principles-driven portfolio of companies that they were establishing," said Crovo. "I am honored to join a company with strong Yup'ik Alaskan heritage that also offers such a unique ability to provide next-generation technology solutions to their government clients. It is an exciting place to be and welcome the new challenge."
Most recently, Crovo was the President of a fast growth federal IT and professional services firm which was successfully acquired by private equity in 2020. He was responsible for P&L operations management, strategic planning, and company growth, achieving CAGR of 29% over 10 years. Crovo is an ACT-IAC Fellow (Partners 2016), has served as Vice Chair for ACT-IAC Management of Change Conference and supported various working groups. He holds a Bachelor of Science in Information Systems from University of Maryland, Baltimore County and an MBA Certificate in Information Technology from University of Maryland, University College.
Copyright © – Akiak Technology, LLC – All Rights Reserved